100% of the proceeds benefit Gracepoint School For Dyslexic Learning.
PRE-ORDER YOUR COPY NOW!
AMAZON: http://bit.ly/LG-AMAZON
IBOOKS: http://bit.ly/LG-iBOOK
BARNES & NOBLE: http://bit.ly/LG-NOOK
KOBO: http://bit.ly/LG-KOBO
Foreward by Sherrilyn Kenyon
———————————————-
Hey all, I want to let you in on an exciting charity project that I'm involved in. I've created a short story for a charity boxed set called Love & Grace with 11 other amazing authors. 100% of the proceeds will go to the Gracepoint School for Dyslexic Learning.
This charity is close to my heart. Several of my family members have struggled with dyslexia. Often, it's difficult to know how to help. That's where schools like Gracepoint come in.
Please come and support us by joining the Facebook event and spreading the word about this wonderful charity boxed set filled with sweet contemporary romance stories. And while you're at it, enter our fantastic giveaway to win a Kindle Fire and 15 awesome books from me and my fellow authors!
Love & Grace Summary:
Can a town save a marriage? Will a high school reunion offer a second chance at love? Can a man with a secret and a woman afraid of being hurt learn to trust? Can a girl running from her past escape her heart? Will a woman trapped in the past discover the true importance of family? Can unexpected love become the best present ever?
You'll find hours of enjoyment as well as a satisfying ending to each story. No cliffhangers and no partial novels are offered here, just an escape into worlds of love, families, and grace.
Participating Authors & Titles:
GRACE IN SWEETWATER COUNTY by Ciara Knight
ONE AUTUMN LOVE by Lindi Peterson
MONTANA BORN by Hildie McQueen
STANDING ON THE PROMISES by Sally Kilpatrick
CHRISTMAS BELLS by Linda Joyce
LETTERS TO RACHEL by Airicka Phoenix
WHERE YOU BELONG by MK Smith and Lori Freeland
BROKEN WINGS by Alexandrea Weis
THE MISSING INGREDIENT by Nicole Zoltack
SWEET SAMANTHA by Kiersten Fay
THE RIGHT ONE by MK Smith
SECOND CHANCES by Walt Mussell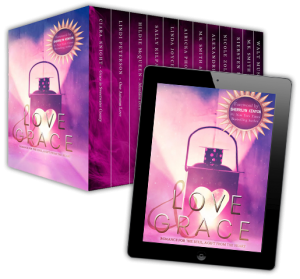 Love & Grace Charity Boxed Set
Love & Grace Charity Boxed Set
Kiersten Fay
900
Gracepoint
August 30, 2016
August 30, 2016
2016
English
9781939081537
Romance
Romance
Please help support this cause on Pinterest by Pinning the image below.