Kiersten Fay here to tell you all about my scifi paranormal romance novel Demon Untamed.
Demon Untamed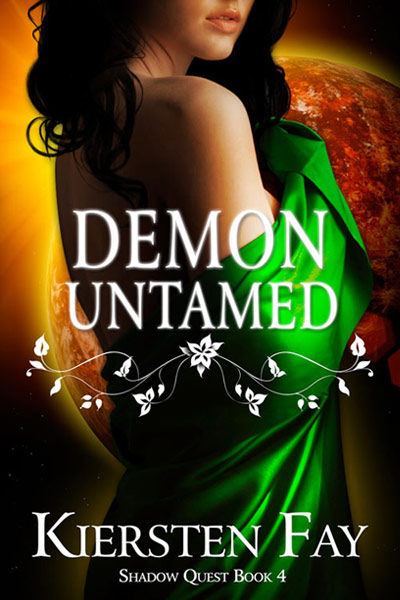 is my personal gift to the diehard Ethan and Sonya fans; their story told from start to finish. One reader called it "passionate and emotionally charged."
This is the first book release that made me nervous because it essentially weaves through the first three books, and there are a lot of scenes that overlap. However, all of them are colored through Sonya and Ethan's eyes, from their POV. I wrote it in such a way that the reader gets to see everything in a new way from Sonya and Ethan's perspective, their thoughts and feelings and struggles.
But don't expect a complete recap. I incorporate sparkling new scenes that didn't make it into the first three books, paying meticulous attention to detail so that nothing is contradicted while making the story fresh and compelling.
Please enjoy the excerpt below.
Excerpt of Demon Untamed
————————————
"Those are our guys." Ethan pointed.
Sonya looked them over. They all had short, dark hair and fit physiques. The one that seemed to be displaying the most aggression, with chest bumps and congratulatory slaps on the back, wore a sleeveless black shirt. A scruffy jaw full of dark stubble flanked a fat stogie resting between a set of straight teeth. Four other men stood next to him, and from what she could tell, they all sported a similar tattoo high up on their left arms.
Mr. Stogie caught sight of them. "Hey!" He threw his arms out wide, as he crossed the room with long strides, but the gesture was not exactly welcoming. "What've we got here? I know that can't be the Pirate King. Because after skipping out with about ten thousand of my credits, the Pirate King would be a sodding idiot to show his face here."
Sonya shot Ethan a look.
He was utterly relaxed. "Didn't I pay you?"
"No." The male stopped just feet away, his entourage close behind. Sonya balled her fists. After the volatile dragon meeting, and then Ethan's teasing, she had quite a lot of pent-up aggression to let loose. These men were practically signing up for a beating.
Ethan replied without a shred of concern. "Must have slipped my mind what with that angry mob chasing after us and all. Why was that again? Oh, yes, you got us pinched for cheating at bones."
"I got us pinched? You were the one fixing the deck."
Ethan paused, looking thoughtful. "Oh, yeah. Too bad you failed to pocket the credits before you started fleeing in terror. By the way, you scream like a little girl. I've been dying to tell you that."
Stogie narrowed his eyes.
Sonya waited to see who would make the first move. If it was Ethan, she would let him do his thing, but if it was the other male, she would be happy to relieve him of his spleen.
No one moved. For a long while, they stared daggers at each other.
Then the harsh planes in Stogie's face eased into a smile. "You todger! What are you doing here?" His arms flew out and he forced Ethan into a tight hug, nearly lifting him off the ground.
Instead of answering, Ethan said with a grunt, "Nice fighter you got there," referring to the robot in the ring. "Is it a contender?"
Stogie released Ethan and then stepped back. "Getting there. Only a few more practice rounds like this, and I'll catch the attention of the RCFO."
"I wish you luck."
"So what's with the unannounced visit?"
"Remember, you still owe me a debt." Ethan paused, as if letting the weight of that statement sink in as he glanced back at the ring. The defeated robot was being hauled aside with the help of a crane-bot. "What if I had a better deal for you, with a bigger payout?"
Stogie arched a brow. "I'm out of the business," he replied cautiously. "No more pirating."
Sonya ground her teeth. "You said they were mercenaries, not pirates."
All eyes turned to her.
"Who's the tail?" one of the men in the back drawled.
"The incarnation of your darkest nightmares," she shot back at him.
Deep chuckles erupted.
"Girl's got a mouth on her," Stogie said, quirking his lips into an appreciative smile. "A pretty mouth." Then, stupidly, he reached for her.
Ethan swept the barrel of a gun up to rest against the underside of Stogie's jaw.
Sonya's eyes flared. "How did you get a gun past security?"
"Oh, we pirates have our ways," he replied. "Isn't that right, Ivan?"
It was then that Sonya realized Ivan, too, had a gun…and it was shoved into Ethan's gut.
The Edge engulfed her before she even realized. Pure fury ate through her veins.
Ethan spoke in a reasonable tone. "Let's settle down now, boys, or my female is going to rip out your throats."
No one seemed to take his advice.
As Ivan's men moved in, Ethan called, "Baby, try not to hurt 'em too badly."
* * *
Get your copy of Demon Untamed
Amazon | iBooks | Kobo | B&N
* * *
Ethan wasn't sure Sonya had heard him, fearing she was beyond reason. Fire had chased away the beautiful violet of her irises, and her small horns burned molten. There was no way she wasn't fighting someone at this point. If he hadn't experienced her prowess first hand, he might have been worried for her.
Ivan shot Ethan a curious look coupled with an intrigued smirk, but did not lower his weapon. He wasn't fooled by Sonya's small stature, if only because he knew firsthand that Ethan would defend any female who couldn't handle themselves.
His men, however, weren't as intuitive. Their expression indicated all they saw was a wisp of a female challenging four large males. Her size gave the impression that she was an easy mark, when in reality, it lent itself to her swiftness. She was faster than even her more physically endowed brothers. However, with Ivan jabbing that piece into his side, it was still four on one.
When Ivan's crew moved into range, Sonya struck first and with intense speed. Her leg whipped high above her head, cracking the closest male on his crown with a downward vertical kick. He smashed to the ground jaw first. She thrust her fingertips into the jugular of the second male before shoving her other palm hard into his stunned face. The third swung his fist out, missing as Sonya craned her head to the side. She twirled her body, bringing her elbow up to slam it into his temple.
Down He went.
In the next instant, she kicked off the ground and leapt toward her final opponent, clamping her thighs around his neck. Then, in a wickedly orchestrated maneuver, she threw her torso back, planted her palms on the ground, and used her momentum to hrul the male into the bleachers, destroying several chairs in the process.
From her crouched position, she turned her lava gaze on Ivan.
Ethan openly gloated as he told Ivan, "You're going to want to put your piece away."
He did, slipping the weapon into a holster hidden in one of his many pockets. Ethan stowed his weapon as well before stepping into Sonya's line of sight. She peered around him, still intent on her target.
"Okay. Come back now," Ethan cooed, placing his palms on either side of her face. She scanned his features in an animalistic manner, tilting her head to the side. Slowly, the fire drained from her eyes, replaced by that jewel-tone color. She blinked twice as if coming out of a trance.
"Hooey!" Ivan burst out. "That is one wild female you have there."
With slow movements, his men began pulling themselves off the ground.
Sonya took her gaze off Ethan to glare at Ivan.
Most of the men were laughing off the defeat, rubbing their bruises, all but the one who was gushing blood from his nose. He started limping, as if heading for the door behind Sonya and Ethan, which caught Ethan's attention. Sonya had done nothing to hurt his leg, and his movements were too deliberate.
"So what's this big paying job you're offering?" Ivan coaxed.
Sonya replied, still surly from her trip to the Edge, "At this point, it doesn't look to me like you or your boys would be of any use."
Ivan ignored the insult. "We're known for our stealth work, quick take downs, not hand to hand combat, darlin'."
Ethan kept that male in his peripheral as he eased up behind Sonya. In the next moment, the bastard's malicious intent slammed into Ethan. He dove without thinking, inserting himself between the knife and Sonya.
Cold steel slipped into his gut.
Sonya cried out. Then, faster than Ethan's pain-filled mind could comprehend, she twisted around his body, grabbed the attacker by the head, and wrenched till a resounding pop rang out. The man fell limp.
Sonya was back on the Edge big time.
With flaming red eyes, she faced Ethan, hooked her arm around his waist to help him remain upright, and snatched his gun from its holster, pointing it at the others.