Kiersten Fay - Paranormal Romance Author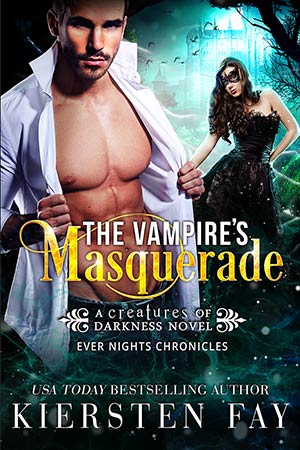 AMAZON • iBOOKS • BN • PLAY • KOBO
A chance meeting…
In a world still recovering from the vampire/human wars, Kasima Wilder is glad to live in the safe haven of Riverstone, a town founded by vampires and populated by both mortals and immortals.
Largely, Kasima has avoided the town's vampire-run establishments. Until one night her wayward boyfriend ditches her at Ever Nights Annual Masquerade Ball.
An unforgettable night…
As head of security, Lex Stirling's job is to ensure the safety of those within the walls of club Ever Nights, especially on the night of the Masquerade, a night where lust reigns supreme and limits are tested.
After rescuing a woman from the unwanted attention of a persistent guest, he finds himself enamored with the little mortal. Soon, their chemistry turns combustible, and they are engulfed in a night of unforgettable passion. A passion that could consume them both as Kasima's ex conspires against them.
As a paranormal romance author, there are several things that drive me when it comes to writing a great story with compelling characters: action, conflict, and the belief in true love are just a few.
My Shadow Quest series is a unique mix of genres, published in both ebook and trade paperback. I've categorized my writing style as paranormal romance, because that's where it fits best, but it's so much more than that — part action adventure, part sci-fi space epic, as well as paranormal romance, and dark fantasy. I'm compelled to write about all sorts of supernatural creatures from demons, dragons, fairies, witches, vampires, and I might even incorporate a few humans.
The Shadow Quest books are an adult romance series that follows several alien characters with origins based loosely on mythology and lore. Book one, Demon Possession, introduces Analia, whose magic powers are a mystery even to her, and Sebastian, a demon who captains the ship Marada. Your heart will squeeze for their struggle. Each character is well developed and will instantly draw you in with their charming humor and wit. And while none of my characters are looking for love, they ultimately find it as chaos and turmoil unfold around them.
Sign up to my newsletter for information on my upcoming events and releases. Also, find me on Facebook and twitter. I love to chat with readers and authors alike. Goodreads is another site where you can find me lurking. In my perspective groups, I'm always engaged in discussions about my favorite romance books.
If you are already acquainted with my books, I would appreciate any rating or review you might be compelled give. Amazon is the best place to post a review, at least for me. Goodreads is wonderful as well. Demon Possession already has several 5 star ratings on both sites, but every little bit helps to get the word out about such a fantastic paranormal romance series.
Cast Your Vote:
Demon Possession is on several Goodreads lists, and could use your votes to help climb to the top. http://www.goodreads.com/list/show/7676.Best_Erotic_Scifi_Romance#11196774
http://www.goodreads.com/list/show/861.Best_Sci_Fi_Futuristic_Romance#11196774
Be sure to check in often, because I'm always offering fantastic giveaways, from free ebooks to signed copies of my trade novels.
I have so many plans for the future of this series, and you can expect to have many more books to come.