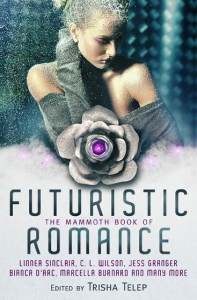 I'm honored to have one of my stories featured in the upcoming book The Mammoth Book of Futuristic Romance, which is scheduled to be published Jan 2013. My story is called Racing Hearts and will offer a glimpse into the universal race Phase Nine that I mention in my Shadow Quest series.
MBOFR will offer fun post-apocalyptic and sci-fi love stores, or (like mine) paranormal romance with some sci-fi thrown in.

Add it to your TBR list on Goodreads
Pre-order from Amazon
Below is a complete list of contributing authors that I received from the editor herself. Comment below if you are on the list or familiar with any of the authors.

Jeannie Holmes
Cathy Clamp
C.L. Wilson
Jamie Leigh Hansen
Linnea Sinclair
Patrice Sarath
Michele Lang
Suzanne Sizemore
Mandy M. Roth
Delilah Devlin
Kiresten Fay
Regan Black
Bianca D'Arc
Donna Kauffman
Jess Granger
Charlene Teglia
Leanna Renee Hieber